With Halloween rapidly approaching there are still a few of us (*cough* a-hem *me*) who haven't decorated. In my defense, I am moving in a week. I still might put together a few things after the move. There are some particularly impressive free printable Halloween decorations out there. Most of them are paper craft printables that require a little labor to put together, but they are all very unique. As always, I'm going to bring you a list of the best.

Lexmark Japan has a
printable witchy bears with pumpkin set
.
Cannon has a nice collection of
printable Halloween decorations.
I especiallyy like the Halloween Tree and the Pumpkin House. I'm not sure how difficult the assembly on these things would be, but if nothing else you should snag a simple banner. They also have some really nice
printable Halloween cards
. The illustrations off these cards are great. If you have a good graphics program and are a bit pdf savvy you should be able to work out a way to use them for more than just cards.... maybe cut-outs or as t-shirt or tote bag decorations.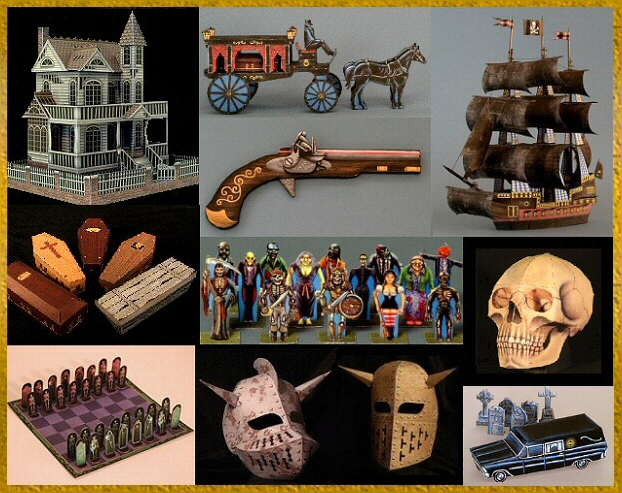 If you haven't already visited RavensBlight then you have missed out on some of the
best Halloween decoration
s on the web. And not just decorations! Games, masks, and toys too.
FamilyFun has cute family oriented (not spooky)
printable Halloween decorations
. Various window decals, stickers, garlands and of course other printables like coloring sheets, puzzles, and games. I especially like this
witch
and this
skeleton.
Goobetsa made some
cutey cute little paper spooks
that you can put in random places throughout your home.
I contemplated giving links to all the great PaperKraft.net Halloween posts, but decided to give you one link and rely on your great investigative skills to find the rest. The custom search on this website works pretty good so you'll be able to find all sorts of
printable halloween
goodies.
Printable Freddie and Jason plus other
creepy creations
await you at Horrorwood.
Paperbox World, home of all things papery, boxy, and adorable has some
halloween papertoys
for you to print and assemble. These are super easy to put together and would look in groups sitting on a mantle or strung up like a garland. I really dig Paperbox World because the designs are simplistic and pretty, they offer a wide variety of papertoys (you HAVE to look at their little cars and trucks!!!) and all the printables are quick to download and easy to assemble.
Other ideas for printable Halloween decorations:
1. Search for Halloween coloring pages (there are lots!), print off a few, and have everyone in the family color them. Put them on the cabinet doors or string them together as a banner.
2. Search for pictures of your favorite creepy animals (spiders, snakes, bats), print them out, and stick them on mirrors, drawer pulls, light switches, and other unexpected places.
3. Use pictures of creepy things to create a mobile or spooky chandelier.
4. Visit medical information sites, print out pictures of bones, organs, etc and create a large Frankenstein style monsters for your wall.
5. Use
printable Halloween masks
as decorations or
printable Halloween treat bag
s as lumineries or
printable potion labels
to re-label the kitchen spices.
.