Free Printable Halloween masks are an inexpensive and fun way to experiment with your holiday "look." Let's face it, not everyone has the time to whip up a Halloween costume and those that do usually don't the time to come up with a different costume for every Halloween event they plan to attend. Not to mention that Halloween costumes are expensive! Printable masks make it quick and easy to put together a costume for work, school, or any Halloween event. There are a lot of printable masks online. As always, I'm bringing the best to you. If you have any to suggest feel free to do so in the comments.
Halloween Masks for Kids
Activity Village has a nice group of
animal masks
to print and play with. These would be great all year long for learning exercises, creative play, storytelling, etc. Not to mention all the other great printables on their site.
All Free Printables has a
clown mask
to cut and color. It's so creepy it
should
be in the monsters section. Seriously. It's not good. It's just scary.
Thanks Woman's Day for this sweet collection of
printable mask to cut and color
. Animals, Pirates, Hippies, Monsters and more wait to be brought to life by crayons, paint, glitter, and glue.
Cannon always has great printables on their site. Some of their paper models are wonderfully intricate and absolutely stunning when they are completed. Their
printable paper masks
are fun, simple, and well illustrated.
These cute little
half masks
from the Essex police come with important messages about Halloween saftey.
Politicians and Celebrities
NewsGroper serves these awesome
printable masks
with a side of satire. Feel what it's like to be Vladimir Putin, Fred Thompson, Britney Spears (Britney Spears??) , Mahmoud Ahmadinejad, Ron Paul, or Barack Obama.
BigHeadDC wants you to remember the good times with this creepy
Larry Craig mask
. No wonder it involves a paper bag over the head.
Will the people over at Forbes ever grow up? You'd think that being the most popular magazine for business and financial news in the US would do a good job keeping you level headed. Obviously not. Since 2003 they've been creating
printable Halloween masks
of various political and popular figures. There's too many to list here, but be guaranteed that if the person was well known and made lots of green Forbes has a mask with their face on it.
David Bowie?
Does this go in Celebrities or Mythological Creatures?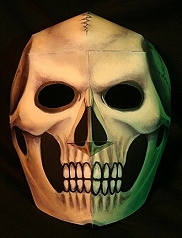 Monsters and Mythological Creatures
Flickr user Ocularinvasion has used his awesome illustration skills to create three great masks for download. The illustrations are crisp with a little bit of whimsy. Choose between
Naked Mummy
,
Studious Werefolf
, and
Suntanned Vampire.
Feel like kicking it old school? FrankenPaper has got your back with these
papercraft 3-D mask
of Frankenstein and Dracula.
Zombies! Vampires! Vampires! Skulls! Medieval helmets? Ok. Sure, that makes since. Especially if you are from RavensBlight and you make incredible
printable papercraft Halloween masks
. While you there check out the rest of their AMAZING Halloween paper toy collection.
Phee McFaddell has a wonderful selection of
printable masks featuring fairies, sprites, and other mythological creatures
. Many of the masks can be colored in. I would have put this in the children's section but even I wanted to color and wear one.
Two great
printable Frankenstein masks
grace the Frankensteinia blog. One is a cute and quirky illustration, the other is a detailed papercraft.
Michael Vic mask
. Yes, it belongs in the monsters category.
Television/Movie Characters
StarWars official website says their
printable StarWars masks
are for kids, but I don't see why my age should prevent me from dressing like Yoda when I go grocery shopping.
NickJr has a slew of printables on their website that feature characters from their shows. My favorite are these
Yo Gabba Gabba masks
.
BBC has one (if you see more let me know) printable Doctor Who television series mask on their website. If you want to be a Robotic Santa Claus as featured in "The Christmas Invasion" (2005) and "Runaway Bride" (2006) then by all means,
print
away. I'm not sure why they don't have more.
Of course, leave it to Doctor Who fans to create a
Cyberman mask
. The world would be bleak without it.
Whimsical
Flickr user PuchiCollective has created some cute conventional style
printable Halloween masks
that are so kitsch they are cool.
Pumpkins need love too. Why not give your favorite jack o' lantern a make over with these cute printable
Halloween mask templates
from GoodHousekeeping.
More artistic than whimsy, this Flickr set of Halloween skull masks by Tiki Chris is a delight. These beautiful skulls would be great as
Halloween decorations
or for Dios de los Muertos celebrations.
Who is Aaron Humphrey? Why is he so angry? Will our nation ever learn what true racial and gender equality is? These and many more questions can be pondered while wearing this
Furious White Boy Mask
.
Don't want to be furious white boy Aaron Humphry? Prefer to be someone more low key, a little more stylized, a bit more colorful, a little
cubistic
? Then you want to be Jared Chapman. He's just a guy. You can be just a guy too by wearing this
mask
.
PBS teaches about the bizarre alien faces of insects with these
printable masks
.
Go MAD with this
printable mask
of the iconic Alfred E. Neuman.
ENJOY!
make your own printable masks
from photos you own.