On the fifth day of the fifth month (May 5) each year the Japanese celebrate Children's Day. This i s a day that is set aside to celebrate children and their happiness, and to express gratitude for the mothers. That is just awesome in my book!
Below is a link to free printable Carp Kites as well as a few other Children's Day crafts, including book marks, and origami kites.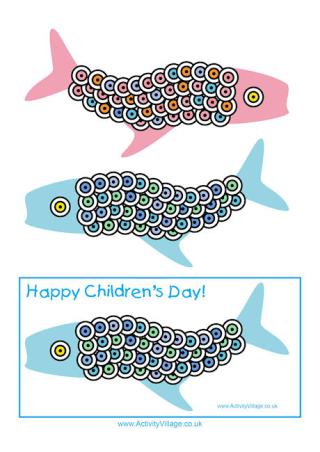 Free Printable Children's Day Activities
I Googled "Children's Day (Japan)" and found that many other countries also celebrate this day. Here are a few: China, Taiwan and Macau. In many countries it is called "Duanwu Festival" or "Tuen Ng Festival"(the later language is Cantonese..I heart Google!)
I fell instantly for the eye catching illustrations, and fun designs of these printable items! I hope that you enjoy just as much!
...on a side note, my 17 month old is holding a carp kite that we printed out and mounted onto an old balloon stick's end and running with his eyes closed because he is laughing so hard at being "chased" by this fish! Enjoy the innocence of babes, their youth feed ours! :) HAPPY PRINTING! :)
CONTRIBUTOR: -Stephanie Corchado-C. of LIFEINENGSPANOL.BLOGSPOT.COM